The number of positive novel
coronavirus
cases have touched a massive 339,645 around the world and resulted in 14,717 deaths globally. While scientists and medical experts are racing against time to invent a vaccine, the grim figures simply point to the fact that prevention is indeed the cure, at least in these circumstances. This is especially important for the high-risk group including people over 70, those with a compromised immune system, chronic illness and pregnant women.
Since a woman's immune system gets compromised and is in constant flux during pregnancy, it makes them more susceptible to contracting infections. While these infections primarily pose a threat to the mother, they can also infect the fetus or the baby during pregnancy or after the delivery.
According to the World Health Organization (WHO), while there is no clear evidence that pregnant women and new mothers are at higher risk of severe illness than the general population, we do know that due to changes in their bodies and immune systems, pregnant women can be badly affected by some respiratory infections.


Can you breastfeed your baby if you are infected with COVID-19?

The simple answer is yes, you can and yes, you should. If you are a new mother, it is important to understand that close contact and early, exclusive breastfeeding can help the baby thrive. Infact, as per the WHO a woman with COVID-19 (the disease caused by the novel coronavirus) should be supported to breastfeed safely, hold her newborn skin-to-skin and share a room with her baby.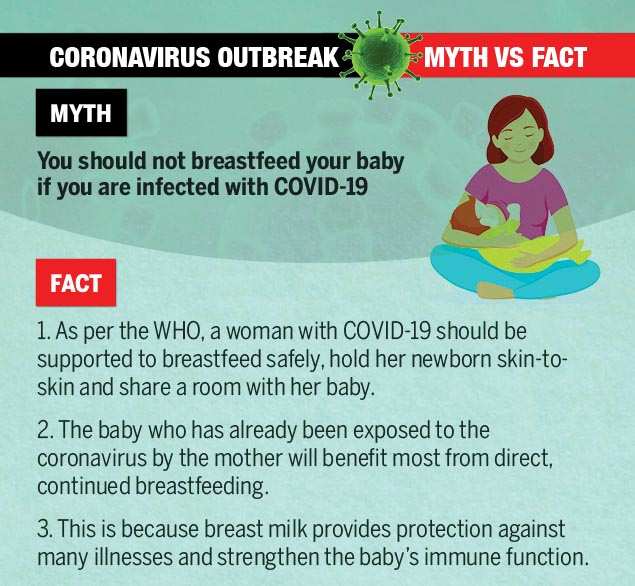 World Health Organisation says that the baby who has already been exposed to the coronavirus by the mother will benefit most from direct, continued breastfeeding. This is because breast milk provides protection against many illnesses and strengthen the baby's immune function.
Can COVID-19 be passed from a woman to her unborn or newborn baby?
It is also crucial to note that no infants born to mothers with COVID-19 have tested positive for the novel virus. In these cases, which are a small number, the virus was not found in samples of amniotic fluid or breastmilk. This is why CDC (Centre for Disease Control and Prevention) also recommends that a mother with flu to continue breastfeeding or feeding expressed breast milk to her infant while taking precautions to avoid spreading the virus to her infant.
What precautions should new mothers infected with COVID-19 take if they want to breastfeed
Women with COVID-19 can breastfeed their newborn if they wish to. However, it is important to strictly follow the below-mentioned guidelines:
1.New mother must practice respiratory hygiene

2.Wash hands thoroughly before and after touching the baby

3.Routinely clean and disinfect all surfaces around the baby
You should wash your hands before and after touching your baby and keep all surfaces clean.

What do if you are too sick to breastfeed the baby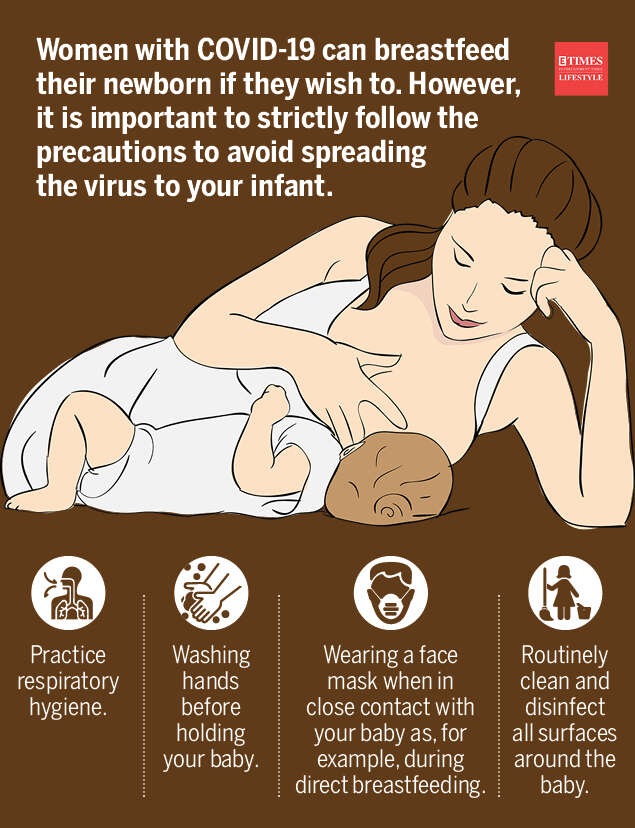 If a new mother has contracted the novel coronavirus and is not able to nurse the newborn because of the sickness, some of the methods she can try to breastfeed her baby is:
1.Expressing milk (Squeezing milk out of your breast so you can store it and feed it to your baby later.)
2. Relactation (Relactation is the process of resuming breastfeeding after a period of no breastfeeding or very little breastfeeding.)


3. Donor human milk